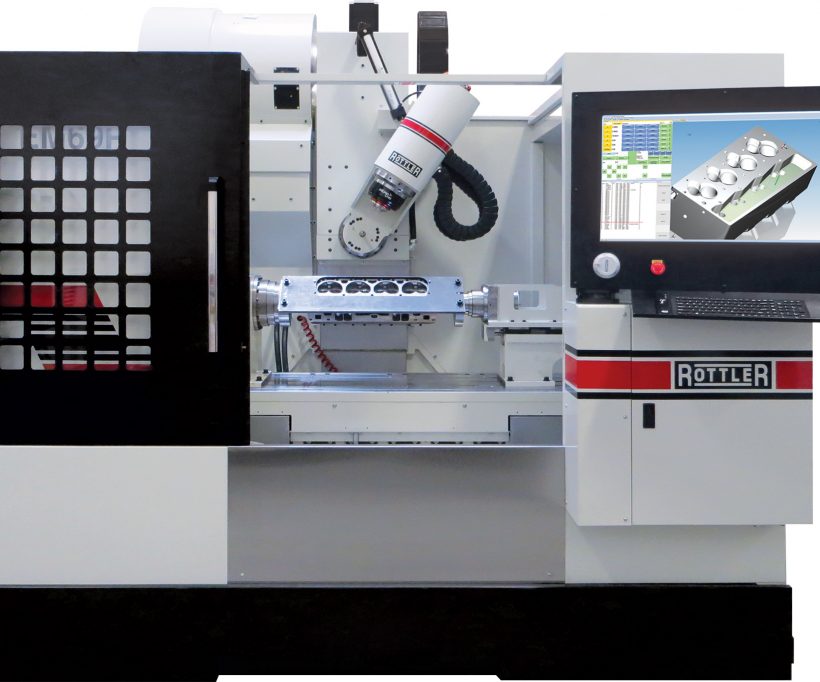 Description
Rottler's Next Generation 5 Axis CNC Multi Purpose Machining Center offers the precision and speed needed to reproduce cylinder heads with exceptional accuracy – with no handwork needed. The EM69HP also has the capability of porting intake manifolds with the same techniques used to port cylinder heads while also perform engine block jobs such as boring, surfacing, lifter boring, line boring, lightening and engraving, plus many additional machining requirements.
Advanced High Speed Spindle Motor with increased power 43HP 32kW continuous and speed up to 20,000RPM.
With the use of Rottleer PATH – Rottler Computer Aided Manufacturing Software allows general CNC industrial machining for a wide variety of applications.
The EM69HP has very fast rapid movements and cutting speed with infinite look-a-head capabilities offering fast production times.
Digitizing is done automatically on the machine using a Reinshaw probe, eliminating the need for an expensive coordinate measuring machine (CMM). All programming and operations are done directly on the Rottler EM69HP 32" Touch Screen Control Panel.
The 24 tool automatic tool changer is included as standard equipment for "set it and forget it" operation.
The EM69HP uses the exclusive Rottler CNC Touch Screen Control Software. With standard Windows user interface and animated training, training time and learning time is reduced. Operators can take full advantage of available features that will improve operator speed and efficiency. See details in "Control" section below.
The EM69HP features Rottler's Advanced Optional 4C Software. The PC-based single processor control system by Direct Motion is highly interactive and very responsive. Our next generation 4C control system extends capability to include importing of CAD models which can be automatically be converted in toolpath that the machine can then use to execute actual machining operations. The upgradeable software can be networked for enhanced efficiency. The Advanced DM software tools allow manipulation of port design and minimize digitizing time. This allows an operator to pick up data once and tweak the design (including hand-ported designs) as needed.
Features
High Speed Spindle Motor with increased power 43HP 32kW and speed up to 20,000RPM.
A 24 tool Automatic Tool Changer is included. Tool changes are accomplished via a dual arm tool changer and rotary tool carousel traveling on linear slides in the Y axis for clearance.
Optional Software System available for the machine:
Port and Chamber CAD/CAM software to quickly manipulate port dimensions, view cross section area, calculate volume, create surfaces, create tool paths and machine ports and chambers. Requires CNC program – either ADP-PROBE4 digitizing system or Rottler PATH as detailed below.
After an order is placed, the training videos on www.RottlerTube.com must be studied before Rottler training technician travels to the machine for onsite training. Operators must continue to view these training videos after training to keep up to date with operation of the control and up to date with the latest features.
Internet connection to the machine computer must be provided and connected at all times during the use of the machine. This is required for service support. The control sends information to the Rottler service department.
Customer must have laptop with videocam for software and programming support.
Highly Interactive & Very Responsive PC Based Single Processor Control System by Direct Motion Control Technology
Standard Windows User Interface with Animated Training & Remote Diagnostics
CNC 32″ Touch Screen Control, Windows Operating System with Intel Processor, Networking and Internet Connection included.
Internet enabled with the ability for a technician to "take over" the machine for remote training and diagnostics from anywhere in the world.
Programming and Machine Operating through 19″ (500mm) extra bright touch screen.
Precision Digital Readout, .0001″ (.002mm) Resolution.
Accuracy ensures Ports will Line Up with No Step – No Hand Blending Required.
120 Degree Range of Motion on 5th Axis Tilt.
Custom Specialized Cutters and Tool Holders Minimize Run Out, Chatter, Noise, Clogging.
High Spindle Speeds (up to 20,000 RPM) with low speed torque for fast stock removal when machining billet castings and boring engine blocks.
Linear Roller Bearing Slideway construction on all axes for smooth and precise axis movement.
Direct Drive Precision Ground Ball Screws on all axes for improvement accuracy and repeatability.
High Feed Rates of 100 IPM (2.5MPM) with Integrated Design & Sophisticated Look Ahead Software.
Rotary Vector Gear Reducers in 4th and 5th Axis for extended life and near zero backlash.
Direct Drive AC Servo Motors on all 5 axis – no belts.
ABS Brushless AC Servo Motors.
Linear Motion Slide Way construction for smooth and precise axis feed.
Fully Enclosed with Sliding Doors and Coolant System with chip auger and roll out coolant tank.