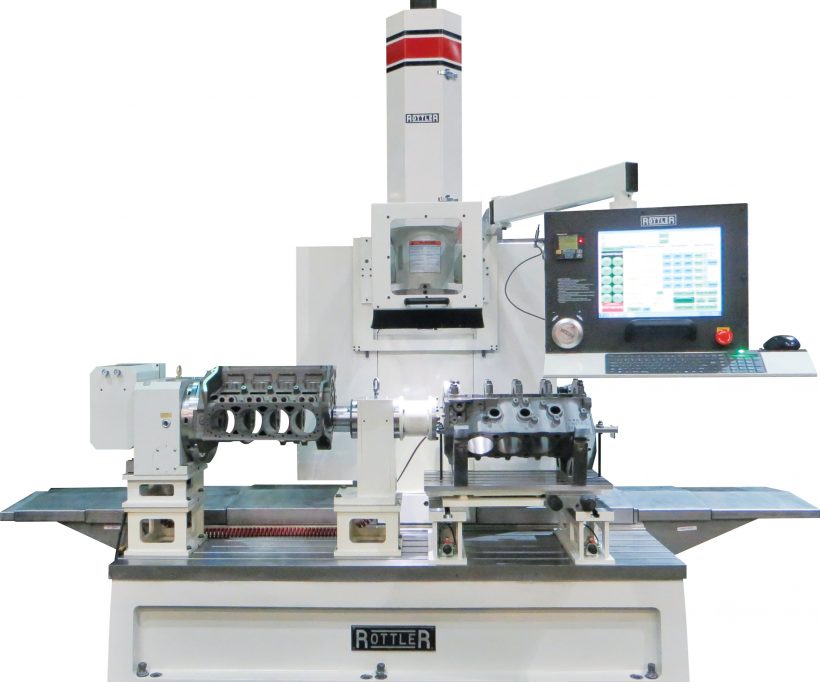 Description
Machine Operations
Automatic Tool Changer
Block Surfacing
Blue Print Boring
Boring & Sleeving
Circular Interpolation
Connecting Rod Boring
Cylinder Boring
Cylinder Head Resurfacing
Lifter Boring
Line Boring
Multi Purpose CNC (Custom Parts)
Thrust Cutting
Features
Windows Touch Screen Operating System – Rottler uses Windows Touch Screen Technology on a 19″ touch panel. The Windows software has many advantages such as it's common user interface that is easy to learn and fast to operate.
Instant Internet Support – Rottler offers cutting edge internet support direct from your machine to the factory. Skype is installed for internet support. This feature gives you instant, direct contact with Rottler right on the machine without even making a phone call.
Automatic Tool Changer – Automatic Tool Changing System available for production machining applications.
Traveling Column Design – Allows stationary work piece for increased accuracy.
Extra Height Capacity – Easily handle medium size diesel blocks forincreased versatility.
Large Turcite Coated Box Ways – Turcite coated bedways for reduced friction, longer life and better accuracy.
Extra Long T-slot – Work Table for dual workstations and increased versatility
World Standard CAT40 Spindle – For fast tool changing and worldwide versatility. Sliding Quill Spindle Design –  For deep hole machining required for block work.
Servo Motors – Offer maximum torque and performance throughout the RPM range for precise accuracy and increase productivity.
Single Phase 208-240V – For power efficiency that saves electrical running costs.
Automated Workhead Tilting System – Provides superior surface finish.
Extra Long T-slot Work Table – for Dual Workstations and Large Blocks for increased versatility.
Direct Drive Precision Ball Screws – Give long trouble free life and accurate movement.
Accessories
CNC (Computer Numerical Control) Machine using Windows Operating System and Industrial PC with Intel Processor. Precision Programming and Control  thru a 15″ (400mm) Computerized Touch Screen.
Software options available for Programmable & Automated Cycles such as Boring, Surfacing, Lower Sleeve Offset Boring, Water Hole Repairs, Main & Cam Line Boring, General CNC Machine Work
USB flash drive for file transfer to and from computer
Internet connection to the machine computer must be provided for training support and service.
Machine/Computer can operate in either inch or metric system
3 Axis movement by Direct Drive Precision Ball Screws
All motors – AC Servo Motors – Infinitely Variable
Horizontal Movement (X Axis) – Left and Right Direction – 72" (1830mm)
Horizontal Movement (Y Axis) – In and Out Direction – 12" (305mm)
Vertical Movement (Z Axis) – Up and Down – 18" (457mm)
Vertical, Horizontal and Spindle Load Monitoring for Fast Overload Shut Down
Precision Position Display in .0001″ (.002mm) Resolution.
Electronic Handwheel for manual movement – per click: Coarse Mode .01″ (.25mm) Medium Mode .001″ (.01mm) Fine Mode .0001″ (.002mm)
Infinitely Variable Feedrates adjustable by handwheel during automatic cycles
High Performance Spindle Rotation AC Brushless Servo Motor and Drive System
Hard Chromed Precision Spindle with High Speed Angular Contact Bearings
CAT40 Spindle Taper with Pneumatic Quick Change Tool System
Fast Rapid and Jog Speeds for Reduced Cycle Time
Automatic Workhead Tilt System for Back Clearance during Surfacing
One Piece Heat Treated Mehanite Cast Iron Machine Castings
Air Pressurized Column for Less Friction and Accurate Positioning
Turcite Coated Slideways for Low Friction and Extended  Life
Automatic Central Lubrication System monitored by computer
LED Work Light (mounted)
Chip Guard with Adjustable Pivot Arm
Operation, Programming and Spare Parts Manual – Digital