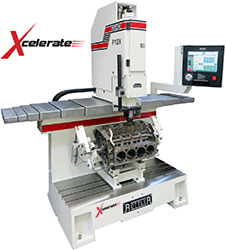 Description
The FA machines are the industry standard worldwide for boring bars. Designed for all automotive blocks up to big block V8's and small diesel blocks, the F9A will produce accurate bores for a lifetime. The F9A is ideal for the production shop where the odd sleeve must be fitted. The F9A boring bar is the fastest, most powerful boring machine available to the jobber shop. The simple setup and manual push button controls make this a very user-friendly and economical machine to operate.
Having the same feed and capacity of its brother, the F10A, the F10X uses Rottler's exclusive Xcelerate technology to make operation faster, easier and more precise. This special version CNC machine offers automatic hole-to-hole unattended boring.
The F10 Boring Bar has been designed for standard and large capacity machine work. Large sleeve cuts can be taken at high spindle rpm's, and in many blocks, one pass sleeve cuts are possible, which increases productivity.
The massive one piece meehanite, stress relieved, precision machined base of the F10 model allows the fixturing of large diesel blocks such as Cummins 855, Detroit 12V71, Mercedes 44V12 and odd jobs such as gear cases and connecting rods.
The F10 machine can also handle small jobs down to 1.5″ (38mm) bore diameter with optional cutterheads.
Floor-to-floor bore a V8 block in 15 minutes. Bore through a 6″ (152.4mm) bore 4″ (101.6mm) in diameter in 35 seconds, .250 sleeve cuts are not a problem. Tooling is available from 1.500 to 9 inches in diameter. Straight through and blind hole boring tools are available. Precision ball screws on the feed give the ultimate feed control.
Features
Speed – All FA boring bars have the same high performance AC servo motor. Independent feed control allows you to change the feed rate from .001″ (.025mm) to .012″ (.3mm) per revolution.
Accuracy – The FA series boring bar uses a precision ground ball screw to control feed rate and cutter position. This allows the machines to repeat cutter position accuracy to .0002″ (.005mm).
Strength – The Rottler proven spindle and bearing design gives you a rigid machine capable of making heavy sleeve cuts for a lifetime. The F9A spindle has been reduced to allow the machining of compact engines such as motorcycles, marine blocks and others.
Flexibility – With variable feed rates you are able to maximize the performance of the machine. Increase spindle feed rates for simple oversize bores. Decrease feed rates for sleeve cuts or counter bores. The F9A machines can bore from 1.5″ (38mm) to 5″ (127mm). Special carbide tools are available for counterboring, chamfer cutting, offset boring, and O-ringing.
Reliability – The F Series machines use a high-speed, cogged belt drive system. This and the use of two independent motors to run the spindle speed and feed, entirely eliminates the gear box.
Cost Savings – The high speed Rottler FA boring bar series machine can bore a block in half the time that other boring machines require. New insert technology is producing long lasting, inexpensive inserts which are capable of handling these high speed and feed rates, with the same cost per insert as previous styles. Inserts do not require sharpening and the low cost of these tools makes them the ultimate choice for boring cylinders.