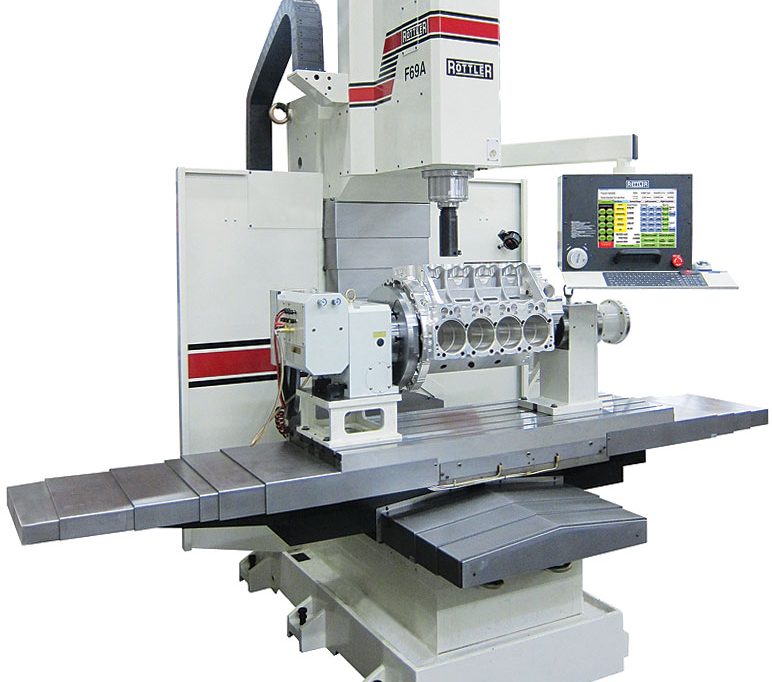 Description
The F69A is a truly amazing machining center. Blueprint bore, line bore, deck blocks, surface heads, true lifter bores, automatic milling to size, all in fully automatic operational modes. The real advancement is in the Rottler Windows program control. All the listed functions are formatted in operations tabs on the touch screen that any shop hand can understand.
You will have the power to write your own programs without any CNC G code experience. The control system is a Rottler Proprietary system available from Rottler exclusively. G Code CNC machines are available anywhere. Companies that package these machines are non essential. Rottler programming allows the operator to program machining functions with great ease. This greatly increases the value of Rottler CNC machines to the end user.
Our sales force can demonstrate the programming in your shop. G code files can be imported and Run in the controller for the more advanced operators/Programmers. Rottler Cam is also an operating system that has advanced beyond the G Code system. You have 3 choices with the Rottler control.
Why limit yourself to one operating system when Rottler offers you three?
Features
Windows Touch Screen Operating System – Rottler uses Windows Touch Screen Technology on a 19″ touch panel. The Windows software has many advantages such as it's common user interface that is easy to learn and fast to operate.
Instant Internet Support – Rottler offers cutting edge internet support direct from your machine to the factory. Skype is installed for internet support. This feature gives you instant, direct contact with Rottler right on the machine without even making a phone call.
Hard Chrome Spindle – Super hard finish resists wear for years of operation.
Hardened Box Way Column – Ensures exceptional rigidity for accurate machining of parts and long life.
Cat 40 Taper – Industry standard for worldwide versatility.
T-Slot Table – Allows operator to clamp or fixture any job quickly and easily.
AC Servo Motors – Offer maximum torque and performance throughout the RPM range for precises accuracy and increased productivity.
Power Drawbar – Offers finger top changing of cutting tools for fast machining of blocks, heads or parts.
Ball Screws – Large diameter 40mm (1.58″) precision ground Direct Drive Ball Screws for rapid feed rates, accurate positioning and repeatability.
Turcite Coated Box Ways – Reduces friction or smooth movement, long life and accuracy.
Vertical Box Ways – Precision ground, hardened box way slideways are 28″ (700mm) wide for increased rigidity and years of heavy duty high production machining.
Touch Screen Controls – For fast, easy programming of machine.
Eye Level Control Pendant – For easy viewing and less floor cutter.
Manual Handwheel – Offers operator infinite control of machine movement in all axis for quick and easy setup.
New Motor Drive System – Offers you increased dependability and ease of service.
Automatic Lubrication System – For years of trouble free life and reduced wear
Accessories
CNC (Computer Numerical Control) Machine using Windows Operating System and Industrial PC with Intel Processor. Precision Programming and Control  thru a 15″ (400mm) Computerized Touch Screen.
Software options available for Programmable & Automated Cycles such as Boring, Surfacing, Lower Sleeve Offset Boring, Water Hole Repairs, Main & Cam Line Boring, General CNC Machine Work
Internet connection to the machine computer must be provided for training support and service.
Programming and Machine Operation Thru 15″ (430mm) Extra Bright Touch Screen
Electronic Handwheel for manual movement – per click: Coarse Mode .01″ (.25mm) Medium Mode .001″ (.01mm) Fine Mode .0001″ (.002mm)
Precision Digital Readout, .0001″ (.002mm) Resolution in 3 Axis
3 Axis Movement by Precision Ball Screws & AC Servo Motors – Infinitely Variable
Horizontal Movement – Left and Right Direction – 40″ (1000mm)
Horizontal Movement – In and Out Direction – 20″ (500mm)
Vertical Movement – Up and Down – 27″ (685.8mm)
Extra Clearance Between Spindle Nose and Machine Table – 39″ (990mm)
High Speed, Rigid Spindle for Chatter Free Cutting
Spindle Rotation by AC Servo Motor – Infinitely Variable 100-4000RPM – 5HP (3.75kW)
Automatic Central Lubrication System
Power Quick Change Tool Retention System – Cat 40
Chip Shield Assembly
Operation and Spare Parts Manual