Kwik-Way SVSIID Valve Refacer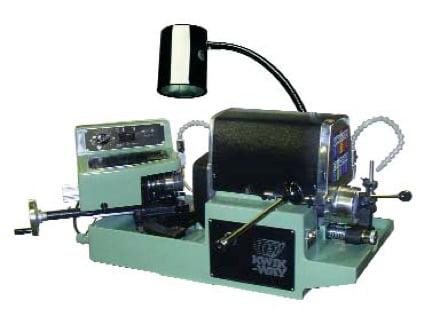 Description
Setting the Standards – The SVS II Deluxe sets the standards for Performance Racing and Remanufacturing work. The Centerline Chuck eliminates collets and inaccuracies that other Valve Refacers have. The Valve face is machined concentric to the valve stem for improved sealing, better heat transfer and reduces mechanical stresses on valves.
Features
Grinding Wheels – The SVS II Deluxe is equipped standard with vitrified wheels, grinding oil and diamond dresser. Everything needed to start grinding right away. Special wheels for grinding difficult metals such as Titanium, Inconell, are available.
Variable Valve Rotation Speed – allows the operator to adjust surface speed for different diameter valves for best surface finish for a wide range of valve head diameters from small multi-valve to large diesel valves.
Wired for Fast Machining – The main grinding wheel automatically shuts off when moved out of the grinding area and re-engages when brought back into range. At the same time, the Valve rotation motor stops when the button is pressed to release the valve and rotation returns immediately when the button is released. This action not only makes for safe operation of the machine but also means the operator can move through a set of valves very quickly.
Valve Stop – eliminates the need to reset for the next valve. Simply pop the next valve in and it lines up perfectly for the grinding operation. Precision threaded feed that is protected from dirt and grim accurately controls valve travel into and away from the grinding wheel surface.
Center"LINE" Grinding System – You have maybe heard or read of a "Centerless" Grinding System which involved more moving components. Our Centerline chuck system is the holy grail that all our competitors have been trying to duplicate for over 50 years. They can make it look like ours but no one can make them perform like ours. We still have the highest accuracy with our optional High Performance Chuck.
Pneumatic Operated Change-Over – No need to switch off the motors when changing valves reducing machining time and increasing life of motors.
Solid Cast Iron Construction – The base is poured in the USA and machined in Cedar Rapids, Iowa. The weight of a Solid Cast Iron Base dampens harmonics, eliminates chatter, and maintains accuracy for a very long service life.
Stem/Butt End Grinding – Grind Valve Stem End square to the valve centerline. The V rest allows all valves in a set be be ground the same distance from valve seat to stem end – essential for overhead camshaft type cylinder heads.
Stem/Butt End Chamfering – Grind Valve Stem End with chamfer to allow easy entry to new valve stem oil seals to ensure reliable installation for minimum oil consumption between valve stem and valve guide.
Accessories
Base Cabinet – Our Optional Base Storage Cabinet matches the machine and offers plenty of storage capacity. It can be used with our optional external 5 gallon grinding oil system to greatly extend the time between oil changes.
Optional Large Capacity Coolant Tank does not require the use of our cabinet and can be easily retro-fitted to any SVS II Deluxe Valve Refacing Machine.