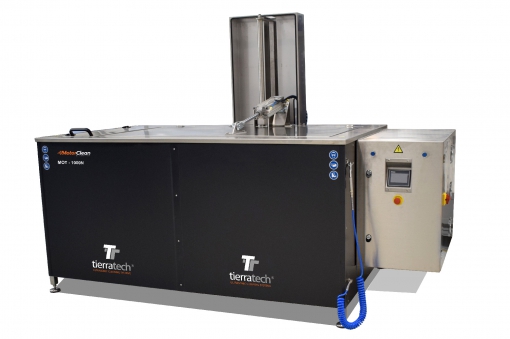 Description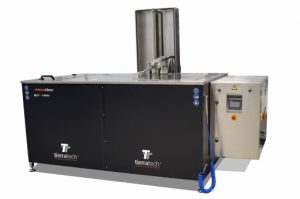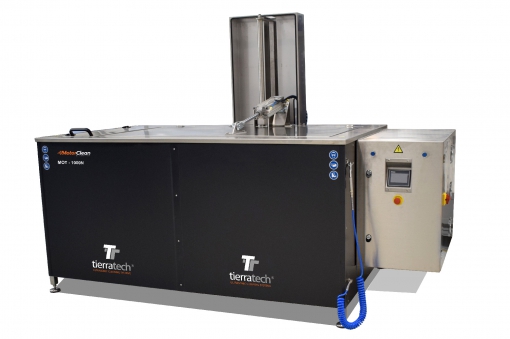 Capacity: 1000 litres
Internal dimensions: 1500 x 900 x 860 mm. (excluding auxiliary tank)
Useful measurements: 1410 x 720 x 550 mm.
Platform measurements: 1410 x 720 mm.
External dimensions: 2780 x 1350 x 1100 mm. (including auxiliary tank)
Weight: 550 Kg
Features
• 4.3" TFT LCF touch screen. Functional and intuitive; with access to select the time of the ultrasounds, temperature and peripherals or optional systems; and it is programmable on a weekly calendar.
• PLC with a temperature model fitted with 7 outputs and 7 inputs
• Ultrasonic Power: 6800 W (13600 W p-p)
• 2 Ultrasound generators with 6800W (13600W p-p) output power
• Working frequency: 40 KHz with a frequency Sweep System (Sweep System ±2). 4 submersible emitters of 1700W each.  The emitter contains 34 high-performance PZT (lead zirconate titanate) piezo-electric transducers with aluminium alloy body.
• Power supply: 400 V.
• Heating element: 2×7000 W
Accessories
• AISI 304 stainless steel tank, 2.5 mm thick
• Exterior steel panelling with a special anti-fingerprint finish. Easy to clean.
• K-Flex Duct Net thermal and acoustic insulation, 20 mm. • Reinforced pneumatic platform for loading and immersing. Maximum load capacity: 750 Kg
• ½" water inlet ball valve and a 1½" one for drainage
• Silentblock legs, adjustable in height
• Automatic Heat-insulated stainless steel end-of-day lid
• Compressed air gun to dry parts. Integrated system to separate lubricants and oils. Removes residue from the surface of the ultrasound tank, keeping the cleaning equipment in perfect condition
• Sloping bottom to facilitate cleaning.
• (Optional): filtering system (stainless steel filter with a polypropylene/polyester bag) for residue and mud.