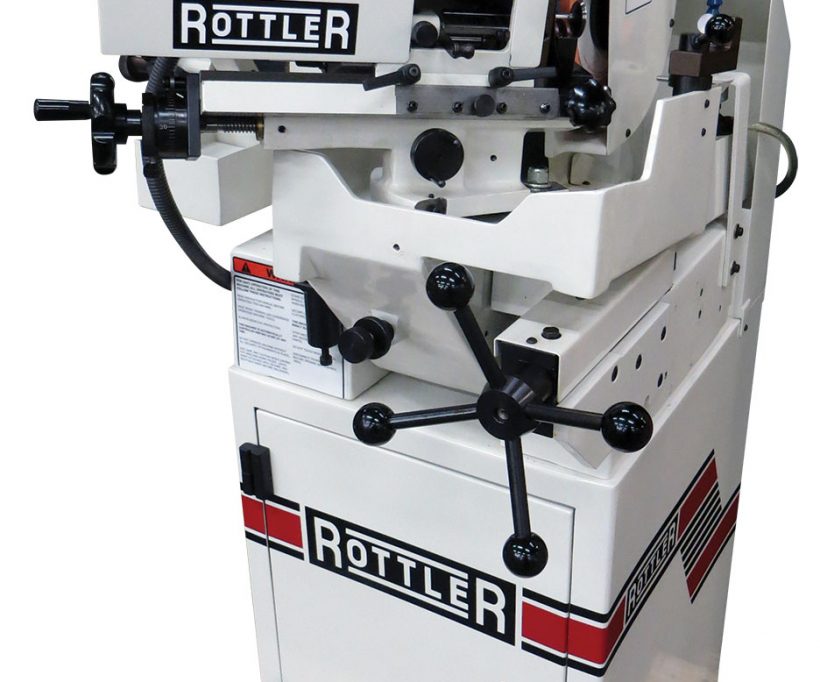 Description
Rottler's Centerless Grinding System is able to grind a set of valves to exact same length without adjusting settings.
The Centerless System rotates the valve stem on it's own centerline. Precision drive rollers rotate the valve stem and a pneumatic low friction steady rest support the valve stem similar to a precision balancing machine, resulting in extremely accurate valve stem to valve seat run out less than .0002″ (.005mm) TIR. The Rottler Centerless System allows a wide range of valve stem diameters to be ground without changing any collets or chucks.
Stroking Handwheel – The new design stroking handwheel moves the valve back and forth over the grinding wheel. When operator's hand is removed from the stroking handwheel, the stroking system remains in position until the operator moves the handwheel again.
Features
Centerless Grinding System includes Pneumatic Steady Rest for Valve Stem Diameters from .160 – .600″ (4 – 15mm)
Special Design Drive Roller System to allow grinding of small/short valves without Pneumatic Steady Rest
Central Stroking Rotational Handle for easy stroking of valve over grinding wheel,  chuck does not fall to end stop when operator's hand is removed from th ehandwheel
Motor Controller converts single phase incoming power to 3-phase motor
Variable Valve Rotation Speed from 0 to 230 RPM
Digital Display Valve Face Angle Device from 5 to 55 degrees in .1 increments
Double Dove Tail Slides for Valves up to 15″ (380mm) Overall Length
End Stop System to grind valves in a set to equal length from butt end to seat face
Butt Grinding and Chamfering Device  including micrometer, adjustable V Nest
Small/Short Valve Butt Grinding and Chamfering Device
Main Wheel  Dressing  Device mounted on the machine
Main Grinding Wheel 9.0″ (230mm) Diameter, General Purpose (VTRW-10)
Diamond dresse for dressing main grinding wheel (VTRW-4)
Butt Grinding Wheel 4.0″ (100mm) Diameter, General Purpose (VTRW-3)
Diamond dresser for dressing butt wheel (VTRW-5)
Adjustable Work light
Base Storage Cabinet including removable coolant tank and paper filter system, capacity (5) gallons (20 liters)
Grinding Oil 7609C 5 Gallons (20 Liters)
Filter Paper (20 sheets)
Paint Color Code: RAL9002 (Grey White)
Electrical requirements: 208-240V, 10A, 50/60Hz, 1Ph