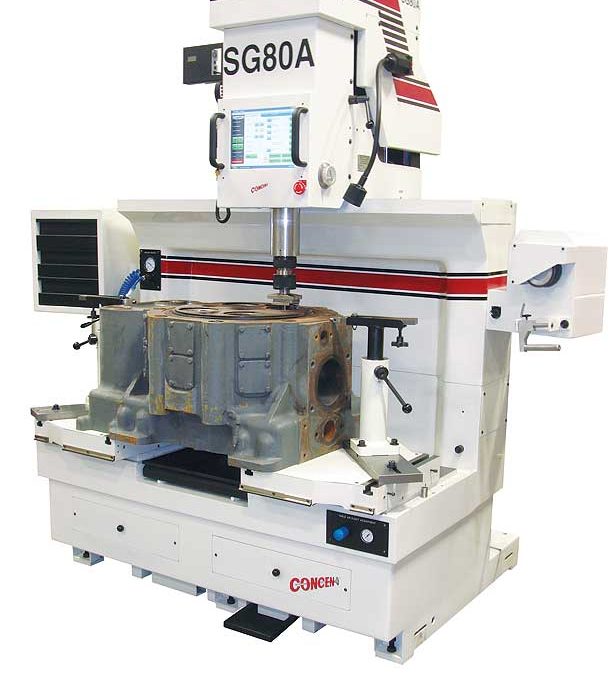 Description
The Rottler SG80A was created specifically for machine shops that rebuild small to large cylinder heads found in the heavy duty engine industry. Large cylinder heads come in many shapes and sizes, from 24 valve single casting cylinder heads to huge single cylinder heads used in natural gas, mining and marine workboat engines. We put our trusted engine block machining technology to work designing a heavy duty machine that handles many operations required on a wide variety of cylinder heads.
At Rottler we believed that many large cylinder heads could be "plunge cut" with fixed tooling to save time and money. We realized that plunge cutting would require a very rigid machine utilizing many of our already established design features such as Rottlers exclusive spindle design.
Over the decades, Rottlers spindle design has proven that our engine block machines are able to "plunge cut" wide counterbores found in large engine blocks with exceptional results. We used this spindle design for the SG80A and it has since been proven, in over 50 machines, that the SG80A is capable of plunge cutting large valve seats very quickly and with excellent CONCEN and surface finish.
Features
Proven Rottler Spindle Design – The large diameter precision spindle nut has an R40 taper with the Quick Change Self Locking Spindle Nut System. Tooling never comes loose and no wrenches are required to change tools. Rottlers unique Heavy Duty tooling allows large and wide Valve Seats to be machined to accurate Concentricity. Solid Carbide Pilots offer maximum rigidity and long life for years of precision machine work.
Touch Screen Control Technology – The SG80A features a Conversational Touch Screen Control that allows the operator to program the machine to cut at certain RPM with a specific feed rate. This eliminates chatter when cutting hard valve seats by eliminating the human error of the operator truing to feel the cutting action. See controls for more information.
UNIPILOT Tooling – The UNIPILOT tooling system allows the carbide centralizing UNIPILOT to work like a live pilot. It stays in the spindle while moving from valve guide to valve guide, but all at the same time has a fixed pilot design to give improved concen. See brochure for more information.
360 Degree Roll Over Fixture – Rottler's 360 Degree Roll Over Fixture comes standard on the SG80A. The fixture allows large 24 valve cylinder heads to be clamped with reference to their head gasket fire deck and rolled 360 degrees in one set up. The heavy duty clamping and fine adjust system allow quick leveling and rigid clamping for heavy cutting during machining. (Optional)
Adjustable Air Float and Air Clamp Work Table – The large worktable of the SG80A consists of two 68″ (1730mm) long parallels that are mounted on an air floating and air clamping base. These extra long T-slot parallels allow a wide variety of fixtures and jobs to be set up for machining. The complete table and fixture assembly is easily adjusted in/out with air float and locked rigidly with air clamping allowing cylinder heads with four valves per cylinder to be adjusted in/out and machined without resetting of the cylinder head in the fixture. Just press the foot pedal to float the table, slide in or out and the table locks in position ready for machining.
Accessories
CNC Touch Screen Control, Windows 7 Professional Operating System with Intel Processor
Memory to save unlimited number of makes of cylinder head for future use.
Internet connection for future support and software updating
Programmable Automatic Vertical Cycles for Seat Cutting, Seat Housing Boring, Valve Guide Reaming, Injector tube machining, Drilling, Thread Tapping.
Programming and Machine Operation thru 15″ (400mm) extra bright touch screen.
Electronic Handwheel for manual operation in .001″ (.01mm) or .005″ (.125mm) increments per Handwheel Detent
Precision Digital Readout, .0001″ (.002mm) Resolution
Spindle Travel by Precision Ball Screw & AC Servo Motor – Infinitely Variable Vertical Movement – Z Axis – Up and Down – 9.5″ (240mm)
Spindle Rotation by High Torque AC Servo Motor – Infinitely Variable to 1000 RPM
Digital Electronic Level for Quick, precise alignment of Carbide Centralizing Pilots Complete with Digital electronic level pick-up
Machine Workhead Floats on Air Cushion for Precision Centering controlled from the Touch Screen – Total Travel in In/Out Direction 2.312″ (58mm) and Left/Right Direction 44″ (1120mm)
Spindle Head Tilt – 10 Degrees to left and right
Heavy Duty Spindle 3.75″ (95mm) Diameter with Inner Precision Angular Contact Bearings supported in Adjustable Outer Bearings
Rottler Automatic Tightening and Quick Release Spindle Lock Nut System for One Hand Operation for fitting and removing tooling to and from the spindle
Table Cross Slide operated by Foot Pedal with Air Float for Easy Adjustment for In/Out Positioning of the Fixture – Total Travel 7.5″ (190mm)
Tooling Storage Cabinet and Mounting Arm
Removable center tray for Chip Disposal
Built In Vacuum Tester including Hose, Bracket, Filter and selection of pads
LED Work light